| | | | | |
| --- | --- | --- | --- | --- |
| TK | Song Title | Time | Rating | |
| 1 | Overture | 2:44 | | |
| 2 | Sunday in Big Valley | 3:17 | | |
| 3 | Heath | 2:24 | | |
| 4 | The Barkleys | 2:44 | | |
| 5 | Harvest Festival Dance | 2:44 | | |
| 6 | Audra | 2:51 | | |
| 7 | Chase | 3:01 | | |
| 8 | Grab For Land | 2:41 | | |
| 9 | Roundup And Fiesta | 2:31 | | |
| 10 | Finale | 1:41 | | |
.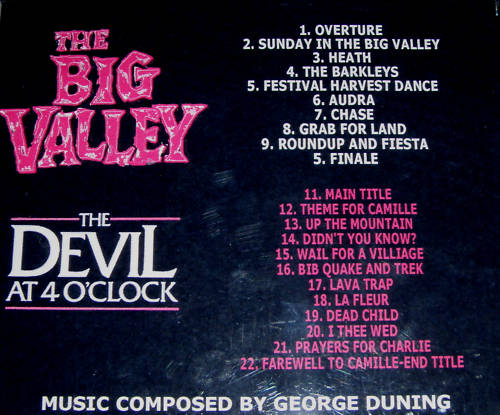 The Big Valley TV Series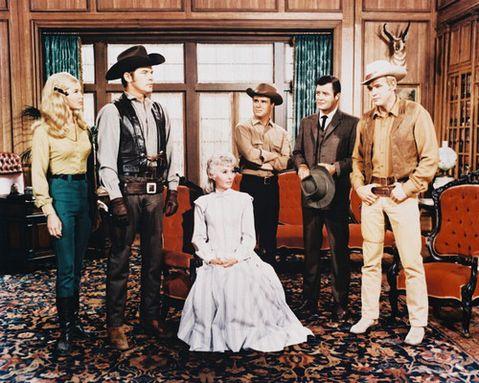 The following details were obtained from Wikipedia.org: http://en.wikipedia.org/wiki/The_Big_Valley
Historical Background:
The TV series was based loosely on the Hill Ranch located at the western edge of Calaveras County, not far from Stockton, (one episode places the Barkley Ranch a few hours ride from town while another has Jarrod riding past a Calaveras County sign on his way to the TV series' ranch). Calaveras County is a county located in the Gold Country of the U.S. state of California. Calaveras is named for the Spanish word meaning skulls, reportedly for the bones of fighters left behind after an Indian war that were discovered by Captain Gabriel Moraga, not far from Stockton, California. Stockton is a city in California and the county seat of San Joaquin County, California. The Hill Ranch existed from 1855 until 1931, exceeded 1,000 acres (4.0 km2), and had the Mokelumne River running through it. The Upper Mokelumne River originates in the Sierra Nevada and flows into Camanche, California Reservoir in the Sierra foothills. Lawson Hill ran the ranch until he was murdered in 1861. His wife Euphemia (aka "Auntie Hill") then became the matriarch. During their marriage they had four children, one daughter and three sons. Today, the location of the ranch is covered by the waters of Lake Camanche. Camanche was a settlement in Calaveras County, California. Once called Limerick, the town became Camanche in 1849. Gold mining at nearby Cat Camp, Poverty Bar, and Sand Hill brought its population to a peak of 1,500. A California State historical marker standing at Camanche South Shore Park mentions the historic ranch.
Plot & Major Characters:
Located about four miles outside Stockton, California, the Barkley ranch consists of 30,000 acres which includes horses, cattle, mining operations, vineyards & orange groves. Victoria Barkley was married for 25 years to Tom Barkley, who died at the hands of railroad men who wanted to illegally procure his land. While The Big Valley is set primarily in and near the city of Stockton, the filming of the series took place in Southern California.
Victoria Barkley:
Victoria Barkley, portrayed by Barbara Stanwyck, was the widowed matriarch of the wealthy, influential Barkley family living in 19th century Stockton in California's central valley. Victoria Barkley was the undisputed master of the Barkley ranch. In fact, Stanwyck's refusal to portray Barkley as fragile was controversial at the time. Barkley's husband, Thomas, had been killed several years prior in the universe of the series.
Jarrod Barkley:
Jarrod Thomas Barkley, the eldest son, was a respected attorney. Richard Long played the role as the educated, refined and calmer of the Barkley sons who handled all of the family's legal and business affairs. While Jarrod preferred the law to settle disputes, he was known to resort to frontier justice and violence when necessary. He was briefly married in one episode only to see his new wife murdered in a memorable episode in which an enraged Jarrod tracks down the killer and is in the process of killing him with his bare hands before both his brothers Nick and Heath arrive just in time and have to physically stop him.
Nick Barkley:
Hot-tempered brawling younger son Nick Barkley, who managed the family ranch, was portrayed by Peter Breck. Nick was well-known for his black leather vests, large black hat and black leather gloves, as well as his loud and brawling demeanor. He was notorious for getting into fist fights. At times, he would fight with his brothers as well, though underneath the gruff surface Nick was warm and caring, had a fun-loving carefree side, a wonderful sense of humor, and he loved his family deeply and would give his own life for any one or all of them.
Heath Barkley:
Heath Barkley was the illegitimate son of Victoria's late husband, and he literally had to fight his way into the Barkley home. Lee Majors portrayed even-tempered but rough and tumble Heath, who was often angry and aggressive throughout the early episodes due to his later to be proven false belief that Tom Barkley had ditched his real mother after she became pregnant with him. In truth, Tom Barkley never knew about Heath, as Heath's mother had never told him, and never even told Heath until she was on her death bed. Heath gradually gained acceptance from the rest of the Barkley clan as the first season progressed until he became as much a "Barkley" as the rest of the family, and his love for them became equal. Although Nick was initially leary of Heath and felt he had to test Heath's metal, Heath would go on to prove himself worthy of even Nick's acceptance, and eventually Nick seemed to grow even closer to Heath than he was to Jarrod, perhaps in a sense due to Heath having more in common with him than Jarrod did.
Audra Barkley:
Linda Evans played beautiful Audra, Victoria's only daughter. Much like her mother, Audra was no wallflower, she was bold and full of life and was often involved in daring stunts and did not ride side-saddled.
The Big Valley: Updated: 2/2/23
Production and Cast:
Original run September 15, 1965 – May 19, 1969
Photo

Actor

Played Character

Born

Died

Age in Series

Age at Death

Years Since Birth

Cause of Death

Barbara Stanwyck

Victoria Barkley

07/16/1907
01/20/1990

58-61

82

116

Heart failure, emphysema

(Santa Monica, California)

Richard (Dick) Long

Jarrod Barkley

12/17/1927

37-41

96

Multiple heart attacks

(Los Angeles, California)

Peter Breck

Nick Barkley

03/13/1929

36-40

94

Demenita
(

Vancouver, British Columbia)

Lee Majors

Heath Barkley

04/23/1939

26-30

84

Alive

Linda Evans

Audra Barkley

11/18/1942

22-26



Alive

Napoleon Whiting

Silas

09/21/1910

10/22/1984

54-58

74

113

(Los Angeles, California)
The Big Valley TV Episodes:
Year

Episode Total

Episode

Date Aired

Episode Title

Synopsis

Composer

1969

Season 4

112

05/19/69

Point and Counterpoint (FINAL EPISODE)
Jarrod jeopardizes his possible candidacy for Attorney General by defending an accused murderer. Little does he know that he was approached to be counsel as part of a complex plot for revenge on Victoria.

Lalo Schifrin

111

04/28/69

Flight From San Miguel
An old girlfriend of Heath's asks his help to rescue her husband, a Mexican revolutionary leader. The family agrees that he should, though if he is caught the Barkley mines will be confiscated..and Heath may lose his life.

Lalo Schifrin

110

04/21/69

Danger Road
An English "tenderfoot" is tricked into driving a wagonload of whisky to an Indian reservation. He joins forces with Victoria, who is delivering medicine, when they find the road filled with more peril than could be expected.

Lalo Schifrin

109

04/07/69

Town of No Exit
Heath stumbles upon a ghost town apparently ruled by the mad.

Lalo Schifrin

108

03/31/69

The Other Face of Justice
Legendary Stockton sheriff Harry Bodine picks up his guns again when a brutal gang terrorizes the countryside. His motives, however, are not as they seem.

Lalo Schifrin

107

03/24/69

The Battle of Mineral Springs
After learning how the town of Mineral Springs has been ruined by the "boss" of a neighboring town, the Barkleys open a freight business connecting Mineral Springs with Stockton and the rest of the valley.

Lalo Schifrin

106

03/10/69

A Passage of Saints
Jarrod rents a farm to a Mormon man and his two wives, who have wandered the West since being expelled from Utah when polygamy was outlawed.

Lalo Schifrin

105

03/03/69

The Royal Road
Jarrod's headstrong ward Laura Haydon falls in love with a Punjabi "prince," unaware that he's a confidence artist.

Lalo Schifrin

104

02/24/69

Alias Nellie Handley
Victoria impersonates a sneak thief, so she'll be sent to prison and can gather evidence on the terrible conditions there.

Lalo Schifrin

103

02/17/69

Lightfoot
Modoc Indian Tom Lightfoot returns from Harvard to find that not everyone is willing to treat him with respect. His bitterness leads him to turn against even his long-time friends the Barkleys.

Lalo Schifrin

102

02/03/69

The 25 Graves of Midas
Nick and Heath travel separately to a mining town to investigate a collapsed mine. When Nick arrives, he finds a hostile populace, and no Heath.

Lalo Schifrin

101

01/27/69

The Secret
Adam Howard believes that his wife has been having an affair with Jarrod. He buys a neighboring ranch and sets out to harm the Barkleys in every possible way.

Lalo Schifrin

100

01/20/69

Joshua Watson
Nick is relieved when -- after betting $5000 on a rodeo against a rival ranch -- he hires a brilliant all-'round cowboy, ex-slave Joshua Watson. When the rival Mortons learn how good Joshua is with a gun, they claim he is an outlaw and say that if he doesn't turn himself in, they'll take him or kill him.

Lalo Schifrin

99

01/06/69

Top of the Stairs
Victoria wonders if she is being lied to: she is told her brother-in-law has gone insane, but is refused admittance to his sickroom, even when he is sedated.

Lalo Schifrin

98

12/30/68

Hunter's Moon
On his way to buy stock in a county he has never been in before, Nick is arrested and accused of having an affair with the wife of a local landowner.

Lalo Schifrin

97

12/16/68

The Prize
The Barkleys take in the infant son of a wanted man. The baby's father is searching for him, and a bounty hunter lies in wait.

-

96

12/09/68

A Stranger Everywhere
Nick inadvertently causes problems for the town dressmaker when, as a joke, he tells a gullible ranch hand that the woman is a missing member of an outlaw gang. When Nick realizes what he has done, he tries undo the damage.

-

95

12/02/68

The Profit and the Lost
Heath saves the life of a hired killer, who is on the way to Stockton to kill ...Heath.

-

94

11/25/68

The Long Ride
Audra witnesses a brutal killing, and goes into a catatonic state. The killers trail the stagecoach on which Victoria is accompanying Audra home. They destroy shelters and salt wells to force the passengers to surrender Audra.

Lalo Schifrin

93

11/18/68

Hell Hath No Fury
Gang-leader Dillie falls in love with Heath and wants to settle down with him. Her brothers don't approve, and Heath has no wish to marry her.

-

92

11/11/68

The Jonah
Things start going wrong with the fruit harvest when Waldo comes on the scene. The ranch hands firmly believe he's "jonah" and pressure Nick to fire him.

-

91

10/28/68

Deathtown
Jarrod arrives at a town to handle a land transaction, only to find that the men he was to meet have disappeared.

-

90

10/21/68

Run of the Cat
Nick is attacked by a mountain lion. His physical injuries are bound to heal, but he suffers from terrible nightmares. Despite his condition, he is determined to track down the cat himself, to face his demons.

-

89

10/07/68

Presumed Dead
Victoria loses her memory when injured in a stage accident. She is nursed to health by a rustler, who can't resist telling her that she is his (late) wife whom he misses so much.

m

Lalo Schifrin

88

09/30/68

They Called Her Delilah
One-time Confederate spy Julia Saxon visits Stockton to much vilification. She is accused of murder, and Jarrod agrees to defend her despite his own mixed feelings: he was once in love with her

-

87

4-01

09/23/68

In Silent Battle
War hero Jonathan Eliot intrigues Audra, but her brothers feel there is something more than slightly off-center about his obsession with "purity."

-

1968

SEASON 3

3-26

03/18/68

The Challenge
Victoria and her long-time friend Senator Bannard are set up for a "compromising" photograph, by Bannard's political rival.

3-25

03/11/68

Run of the Savage
Young Danny Wiggins seems bound for trouble; Nick sets out to try to help him, whether he wants help or not.

3-24

03/04/68

Devil's Masquerade
When Jim North's bride-to-be arrives from the East, Heath suspects that something is not quite right about her.

3-23

02/26/68

A Bounty on a Barkley
Nick courts a young woman, unaware of the fact that she has a bounty hunter husband. At first, she doesn't have a chance to tell Nick this; later, she doesn't want to.

3-22

02/16/68

Rimfire
Jarrod is in Rimfire to negotiate the merger of the Barkley and Glover silver mines. Unfortunately, land between the two mines is occupied by Chinese "squatters" who have taken over abandoned real estate. They insist they will not be bought out, and tensions rise.

3-21

02/12/68

The Emperor of Rice
Walter Masters is out to corner the rice market, but his old friend Victoria refuses to sell him the family rice, choosing instead to sell it to a consortium of Chinese-American businessmen. The weak-willed Masters allows his wife to take drastic measures in response.

3-20

02/05/68

Fall of a Hero
Heath is sure to be acquitted of a crime he can't remember committing, if he trusts the unscrupulous methods of Jarrod's co-counsel. However, Heath would rather honestly work for the truth to come out, even if it means he learns he did commit the crime.

3-19

01/29/68

Shadow of a Giant
Nick and Heath join a posse led by famous lawman Seth Campbell. Heath is uneasy, as he feels Campbell is too cavalier with peoples' lives.

Elmer Bernstein

3-18

01/15/68

Miranda
Miranda, a Mexican revolutionary, tries to trick the Barkleys into giving her a necklace that has been given to them for safe-keeping.

3-17

01/08/68

Days of Wrath
Michael Strong, Sandra Smith, Kevin Hagen, Peter Hobbs Synopsis: Jarrod seeks to avenge the death of his new wife at the hands of a man he once sent to prison.

3-16

01/01/68

The Good Thieves
Nick and Heath cross the state line to bring back two outlaw brothers who shot Jarrod in the course of a robbery. They find a town that thinks of the outlaws as benefactors and will have nothing to do with the Barkleys' search for justice.

1967

3-15

12/25/67

The Buffalo Man
Victoria hires three convicts to help with the peach harvest. The violence of the convict overseer, especially with a black ex-soldier, horrifies her.

3-14

12/18/67

Journey Into Violence
Heath is taken captive by a band of "religious" who accuse him of killing one of the number, and condemn him to serve as slave to the dead man's widow.

Elmer Bernstein

3-13

12/11/67

Night of the Executioner
A prominent politician is assassinated and the town drunk is accused. Heath sees a known outlaw in the vicinity, riding the drunk's pinto horse. The problem is, the sheriff swears the outlaw was in jail at that very time.

3-12

12/04/67

Four Days to Furnace Hill
A woman prisoner is killed while he is being delivered to a desert prison. To keep from losing $100 bounty, the guards substitute Victoria, whose buggy has broken down on the route to a mine stockholders' meeting.

3-11

11/27/67

Explosion!: Part 2

The brothers start the tricky journey to deliver nitro to the scene of a forest fire.

3-10

11/20/67

Explosion!: Part 1
The only way to stop a forest fire is to make a firebreak, and the only way to make a firebreak on the scale required is to use nitroglycerin. The first attempt to deliver the nitro kills the men involved. The Barkley boys decide that they are the only ones willing and able to do the deed -- and they hope the famous "Barkley luck" will hold out.As they plan their expedition, each brother finds himself involved in one way or otherwith three very different women.

3-09

11/13/67

A Noose Is Waiting
Two men are found hung, and a note left by each of them claims that a third person will die for past crimes: Victoria Barkley.

3-08

11//0667

The Disappearance
Audra disappears while she and her mother break their stagecoach journey in a small town. No one will admit to Victoria that her daughter was even traveling with her.

3-07

10/30/67

Guilty
Jarrod's client Jeff Bowden was convicted of the murder of a priest; he is convinced of the man's innocence, and sure he can win on appeal. When Bowden escapes during his transfer to prison, Jarrod tries to intervene before he or anyone else gets killed.

3-06

10/16/67

Ladykiller
Nick may become the latest victim of a family who preys upon male customers at their hotel. His pursuit of the young woman of the family gives them pause: should they kill him now, or hope that, wonder of wonders, a Stockton Barkley would marry her?

3-05

10/09/67

Night in a Small Town
Tom Wills is Marshall in a small town which he cleaned up and keeps on a very tight leash. Heath is disturbed to find just how much power his old friend has.

3-04

10/02/67

Time After Midnight
Jarrod is blinded by an explosion set by a scoundrel who doesn't want him to face him at trial as Acting District Attorney. The family encourages him to continue with the case, and assists him at the trial.

3-03

09/25/67

A Flock of Trouble
Nick is tricked into winning a flock of sheep in a card game. His first instinct is to get rid of them immediately, but his neighbors' reactions start to rankle, and he finds himself increasingly unable to back down on a matter of principal.

3-02

09/18/67

Ambush
Victoria and a reluctant Simon Carter are the only protection three Yaqui Indian women have from bounty-seeking scalp hunters.

3-01

09/11/67

Joaquin
A newly-hired ranch hand is suspected of being the famous outlaw Joaquin Murietta, supposedly dead in an ambush ten years before.

1967

SEASON 2

60

2-30

04/24/67

Cage of Eagles
Nick hires Patrick Madigan as a dynamiter, despite his likely Fenian background. Tensions rise when a British mining engineer threatens to have him deported.

-

59

2-29

04/17/67

Days of Grace
Heath is accused of attempted rape. An old friend, now a nun, breaks him out of jail, knowing that if she doesn't, his trial will be immediate and strictly pro forma.

-

58

2-28

04/03/67

The Lady From Mesa
Long-time Barkley cowhand Sam Williams is badly injured on guard-duty. Feeling guilty for allowing Williams on the job, Nick is determined to bring Sam's daughter to his side. She's a schoolteacher in Mesa, Nevada...or is she?

-

57

2-27

03/27/67

Showdown in Limbo
Sheriff Frank Sawyer thinks that all it takes is time to toughen up his young son, newly returned from the East. His attitude is likely to endanger them -- and Heath as well -- as they travel to Stockton to deliver a notorious outlaw.

-

56

2-26

03/20/67

Turn of a Card
Heath must deliver $5000 to his brothers to buy a much-needed mine pump at a government auction. A professional gambler wants to divest him of this money.. and finds Heath's Achilles heel: his chivalry towards the gambler's Tahitian bond-woman.

-

55

2-25

03/13/67

Plunder!
Heath is sent to a town endangered by a possible dam break. The town has been abandoned except for a few men who are there to guard against looters. Temptation gets the better of them, and they turn on Heath.

-

54

2-24

03/06/67

Court Martial
Armed men occupy the Barkley house, bent on punishing Nick's former general for the destruction of an innocent town during the war. Jarrod convinces them to let the general -- and Nick -- give their side of the story at a 'court martial.'

-

2-23

02/20/67

Brother Love
Itinerant "preacher" Brother Love tries out his charm on Audra; Heath sets out to prove that the preacher is a con-man.

52

2-22

02/13/67

The Price of Victory
Heath tricks Nick into becoming a sparring partner to a professional boxer. When Nick knocks him down by a fluke, it is discovered that the boxer has a dangerous weakness: a blind side caused by a blood clot. Nick offers him a job on the ranch, and when the boxer insists on re-entering the ring, he becomes his manager for one last fight.

-

51

2-21

02/06/67

The Haunted Gun
Senator and ex-gunman Jud Robson claims he is being stalked by enemies. Unfortunately it seems that almost anyone can arouse his suspicions.

-

50

2-20

01/30/67

The Stallion
A ranch hand who has gotten too old for regular saddle work is determined to capture a wild stallion, to prove he is as capable as ever.

-

49

2-19

01/26/67

Down Shadow Street
Victoria is eyewitness to the murder of a saloon girl -- a murder committed by her godson, the only child of a local judge. When the boy admits his crime to his father, the judge turns to desperate measures to protect him.

-

48

2-18

01/16/67

Boy Into Man
Lud, the oldest of three children, refuses to cooperate with the Barkleys who have taken them in. He is determined to track down their mother, who has disappeared.

-

47

2-17

01/09/67

Image of Yesterday
Victoria learns that the leader of a gang of hired guns - hired to protect ranches against another gang of marauders - is an old flame. She becomes increasingly disturbed by the lawlessness of his men, and challenges him to live up to the ideals he once had.

-

46

2-16

01/02/67

Wagonload of Dreams
The Barkleys help a Greek immigrant deliver his fruit to San Francisco via wagon, when the railroad station manager jacks up the freight price to make a windfall profit.

-

1966

45

2-15

12/26/66

Day of the Comet
Audra befriends a man she finds camping out on Barkley land; she is intrigued by his cynical, poetic manner. She learns he is being pursued by men out of his past.

-

44

2-14

12/19/66

Hide the Children
When he accuses some gypsy workers of stealing his brandy, and injures one of them in a fight, Nick is volunteered by his brothers to escort the other gypsies and their dowry-wagon to a wedding. On the way, he becomes smitten with the bride-to-be, and learns some lessons about intolerance.

-

43

2-13

12/12/66

A Day of Terror
Audra and Victoria are trapped in a church with a Bible School class by an outlaw clan of mother and sons.

-

42

2-12

12/05/66

Last Stage to Salt Flats
Stage passengers -- including Victoria, Jarrod, and Heath -- are abandoned in the middle of the desert by robbers.

-

41

2-11

11/28/66

The Iron Box
Nick and Heath are arrested by a corrupt sheriff and sent to a road-gang prison. When the warden learns that the two prisoners are of the "California Barkleys", he plans to tempt Nick into leading a breakout so he can legitimately shoot the brothers outside the wire.

George Duning

2-10

11/21/66

The Great Safe Robbery
Warren Oates, Christopher Cary, Kelton Garwood, Lee Krieger, Bill Quinn, Joe Higgins Synopsis: Three comically inept brothers try hard to crack a railroad station safe.

2-09

11/14/66

The Man from Nowhere
Jarrod is sent by the state to help mediate in a land dispute. Injured and without memory of his identity, he is taken in by the family involved in the dispute.

George Duning

2-08

11/07/66

The Velvet Trap
Nick falls for a woman, not knowing that she is a gunslinger's lover. She sees this as the perfect opportunity to rid herself of a problem: a pursuer bent on revenge.

2-07

10/31/66

Target
Unscrupulous gubernatorial candidate Joshua Hawks claims that Tom Barkley stole all the land he called his own.

2-06

10/17/66

The Martyr
Jarrod defends a Basque sheepherder, a self-described anarchist, who is accused of murdering a cattleman. He finds that not all of the Basque community wants his client to be acquitted.

2-05

10/10/66

Pursuit
A young Payute Indian flees back to his tribal encampment when he learns he has measles, believing that only his medicine man will be able to cure him. Victoria goesb after him, knowing that if he reaches his people the disease may wipe them out.

34

2-04

10/03/66

Caesar's Wife
Therese Marvin has strong feelings for her stepson Will, and a terrible jealousy of Audra, whom she is believes is pursuing Will.

-

33

2-03

09/26/66

Legend of a General: Part 2
The Barkleys refuse to give General Ruiz up for extradition to Mexico, even in promised exchange for Heath's life. Instead, they embark on a plan to save both Heath and the General.

-

32

2-02

09/19/66

Legend of a General: Part 1
The Barkleys offer sanctuary to a Mexican general who has fled false arrest. Heath is jailed in Mexico, and the Barkley ranch is invaded by men trying to seize the general.

-

31

2-01

09/12/66

Lost Treasure
A con-man tells Heath that he, not Tom Barkley, is Heath's father. Heath is determined to find out the truth; if he isn't Tom Barkley's son, he won't let himself be a Barkley, despite the fact that the family says they will not let him leave without a fight.

-

1966

SEASON 1

30

1-30

04/27/66

Last Train to the Fair

The Barkleys are on the way to the fair in Sacramento when Audra falls ill. Luckily there is a doctor on the train; unluckily, he is being hunted by men who have every intention of hanging him.

George Duning

1-29

04/20/66

Tunnel of Gold
Victoria extends credit to help an old friend open a store in Stockton, not knowing that the woman's husband has a shady background, and that his old associates have their eyes on a shipment of gold from the Barkley mine.

1-28

04/13/66

The Midas Man
Scott Breckenridge offers to loan money to ranchers during a serious drought. When he will not give an extension to the loans, the ranchers believe the Barkleys are part of a plot to buy up land which has been foreclosed.

1-27

04/06/66

The River Monarch
The Barkleys' riverboat is recovered years after its sinking, but the government gold it had been carrying is nowhere to be found. The local newspaper editor starts a smear campaign, accusing the late Tom Barkley of having stolen the shipment.

26

1-26

03/30/66

By Force and Violence

Heath is trapped under a broken-down wagon, and the only person who can help Victoria save him is an escaped convict.

-

25

1-25

03/23/66

Into the Widow's Web

Heath's boyhood sweetheart comes to town in a traveling show. Her drunkenb husband turns up murdered, and Heath is arrested by the new district attorney, who is out to show that the Barkleys can't get away with murder despite their wealth and reputation.

-

24

1-24

03/09/66

Hazard

Gil Anders, once a friend of Heath, is ambushed by bounty hunters. The Barkleys hide him, and Jarrod seeks to discover the truth about the crime of which Anders has been accused -- despite the fact that Heath believes Anders deserves death.

-

23

1-23

03/02/66

The Fallen Hawk

Heath's guilt-feelings get the better of him when he blames himself for a friend's injury. He seems oblivious to the fact that his friend is manipulating him.

-

22

1-22

02/23/66

The Death Merchant

The Barkleys are plagued by neighbors who claim a boundary changed when a stream changed course. Into the picture comes Handy Random, a gunman who once did the Barkleys a great service. Will he escalate the bickering into a violent feud?

-

21

1-21

02/16/66

Barbary Red

Nick is shanghaied at a saloon run by a woman Jarrod once defended for that very crime.

-

1-20

02/09/66

Under a Dark Star
Jarrod is guilt-ridden because he helped convict Keeno Nash of a crime he now knows Nash did not commit. When he is released, Jarrod offers Nash help, despite the fact that he had threatened Jarrod's life at the trial.

1-19

02/02/66

Teacher of Outlaws
Victoria is kidnapped by outlaws who think she's the local schoolteacher. The reason is unusual: the gang leader wants her to teach him how to read.

18

1-18

01/19/66

A Time to Kill

Jarrod welcomes an old law school friend to the valley, only to find that a secret service agent is on his trail. It seems that every place the friend travels, counterfeit money comes into circulation.

17

1-17

01/05/66

By Fires Unseen

Nick brings his bride-to-be back from San Francisco; the family doubts, however, that she's really ready to marry anyone.

1965

1-16

12/29/65

The Invaders
A gang of rawhiders injure Heath, then take him to the ranch for a reward for "saving" him from ambush. While there, they realize that the rest of the menfolk are away, leaving the ranch vulnerable to their thievery.

George Duning

15

1-15

12/22/65

Judgment in Heaven

Jarrod risks inviting his client home for a Christmas visit: a young woman accused of aiding and abetting her boyfriend, an outlaw who has recently escaped from jail.

14

1-14

12/15/65

The Brawlers

A group of Irish immigrants settle on Barkley land, believing that they have bought the land from a reputable agent. Nick thinks of them purely as squatters, while they can't believe that their purchase was illegal.

-

13

1-13

12/08/65

The Guilt of Matt Bentell

The Barkleys learn that the man they have hired to run their logging operations was the commandant of a notorious Civil War prisoner of war camp -- one in which Heath was a prisoner.

-

12

1-12

12/01/65

Night of the Wolf

Nick is bit by a rabid wolf -- a virtual death sentence. Not wanting his family to witness his decline, he leaves, making Heath swear that he won't tell the others what has happened. Nick hopes that in his final 60 days he will do something worthwhile; if he fails, at least he will have tried.

George Duning

11

1-11

11/24/65

The Way to Kill a Killer

The only chance Mariano Montoya's herd has to survive anthrax is the newfangled immunization that Eugene learned about at college. Montoya says that if the Barkleys want to prove that the procedure is safe, they must test it on their own prize bull.

-

10

1-10

11/17/65

The Murdered Party

Jarrod defends a member of a ne'er-do-well family on a charge of murder, though the main witness against him is Heath.

-

09

1-09

11/10/65

Earthquake!

In an earthquake, a mission church collapses into a forgotten mine which lies under it. Victoria is trapped there with a pregnant Indian woman and a man with a grudge -- a ranch hand that Nick recently fired.

-

08

1-08

11/03/65

My Son, My Son

Audra wants to flirt with Evan Miles, a childhood friend now back from the East. Little does she know that he suffers from a dangerous emotional instability.

-

07

1-07

10/27/65

Winner Lose All

A Hispanic family is in a land dispute with the Barkleys. Maria, the young daughter of the family, falls in love with Heath. Her father disapproves because of Heath's illegitimate birth, and will use the land crisis as leverage to force Heath and Maria apart.

-

1-06

10/20/65

Heritage

Heath investigates violence during at a strike at a Barkley mine. He finds that the miners hate the Barkleys for promises unkept. The family sets out to right things before the Molly Maguires strike again.

-

1-05

10/13/65

The Odyssey of Jubal Tanner

Victoria sells land to an old friend who was has deeply sentimental reasons for owning it, despite the fact that her own sons are part of a plan to flood that land with waters from a much-needed dam.

-

1-04

10/06/65

The Young Marauders
Audra is saved from serious injury by a young man who says he is a mustang hunter. She falls in love with him; her brothers find him a suspicious character.

1-03

09/29/65

Boot With My Father's Name
Victoria starts brooding about how Tom could have truly loved her if he was once unfaithful to her and fathered a bastard child. She journeys to Heath's hometown to try to find the truth about Tom's relationship with Heath's mother.

George Duning

1-02

09/22/65

Forty Rifles
Nick's former Civil War commander and idol stirs up trouble among ranch hands dissatisfied with working for Heath, who is having difficult being accepted as a true Barkley.

George Duning

1-01

09/15/65

Palms of Glory (PILOT EPISODE)
The Barkleys lead the resistance when the Coastal and Western Railroad hire bully-boys to force farmers to give up their land for a pittance. Meanwhile, a young man appears claiming to be Tom Barkley's bastard son.

George Duning
The Big Valley TV Series Music Credits:
Lalo Schifrin (26 episodes, 1968-1969)
Elmer Bernstein (24 episodes, 1967-1968)
George Duning (15 episodes, 1965-1967)
Joseph Mullendore (2 episodes, 1967)
Other Big Valley TIDBITS:
The Big Valley: 1876

Tom Barkley's headstone showed 1870 to be the year he died in the series opener, Palms of Glory. In Odyssey of Jubal Tanner, Audra states that her father died six years prior. Since both episodes aired during the show's first season it is assumed that the starting year was 1876.

Barbara Stanwyck

Visit: http://en.wikipedia.org/wiki/Barbara_Stanwyck

Richard Long

Long had heart problems throughout his adult life and had suffered a heart attack in the latter 1950s. As a boy, he had suffered pneumonia, which apparently weakened his heart. He was also a heavy smoker and drinker. Mara remained with Long until his early death from multiple heart attacks just four days after his 47th birthday. Long died at Tarzana Treatment Centers in Los Angeles. He was cremated. His ashes were scattered at sea.

Peter Breck Official Website

Visit http://www.peterbreck.ca/

Visit: http://en.wikipedia.org/wiki/Peter_Breck

Lee Majors

Married four times:

Kathy Robinson (married 1961, divorced 1964). The couple had one child, Lee Majors II (born April 8, 1962).
Farrah Fawcett, actress, (married July 28, 1973, separated 1979, divorced February 16, 1982).
Karen Velez, (married 1988, divorced 1994); one daughter, Nikki Loren, and twin sons, Dane Luke and Trey Kulley.
Faith Majors, actress and model, (married on November 1, 2002).

Visit: http://en.wikipedia.org/wiki/Lee_Majors

Linda Evans Official Website

Visit http://www.lindaevansofficial.com/

Visit: http://en.wikipedia.org/wiki/Linda_Evans

"Not too hard I can fly right now..." - Audra Barkely / Linda Evans (sample from "Last Train to the Fair")