Then Came Bronson
(Movie Pilot Episode)
from
TV Omnibus: Volume One (1962-1976)
Disc 4/5


| | | | | |
| --- | --- | --- | --- | --- |
| TK | Song Title | Time | Rating | |
| 1 | Main Title (Series) | 0:52 | | |
| 2 | No Place | 0:59 | | |
| 3 | Bronson Away | 2:57 | | |
| 4 | Enter Temple | 2:20 | | |
| 5 | Bronson Mad | 2:10 | | |
| 6 | 42 Miles/Black Bart | 1:46 | | |
| 7 | Temple Cold/Note Interested/Temple Horrified | 2:55 | | |
| 8 | Nature Got Her | 3:27 | | |
| 9 | It's Not Mine/Nowhere to Go | 2:29 | | |
| 10 | Papa Bear/Jim's Story | 2:54 | | |
| 11 | Goodbye Papa Bear/Off Again | 1:23 | | |
| 12 | Winner Bronson/Shopping | 2:24 | | |
| 13 | Wayfaring Stranger*/Coffee Time/Have Fun Today? | 1:47 | | |
| 14 | I Want You | 2:10 | | |
| 15 | Bike Wash | 1:47 | | |
| 16 | River Bath | 2:22 | | |
| 17 | When It Happens/Temple Worried | 1:55 | | |
| 18 | I'll See You/Wayfaring Stranger* | 3:38 | | |
| 19 | Main Title (Series, Alternate) | 0:47 | | |

*"Wayfaring Stranger" (traditional) Arranged by Robert Armbruster, Performed by Michael Parks and Bonnie Bedelia

Total Time 41:55

FilmsScore Screen Archives Entertainment
Label: Intrada Special Collection Volume 244

www.intrada.com

Then Came Bronson
Disc 1/2

| | | | | |
| --- | --- | --- | --- | --- |
| TK | Song Title | Time | Rating | |
| 1 | Main Title | 0:54 | | |
| 2 | Bronson Rides [Episode: The Runner] | 2:36 | | |
| 3 | He's an Orphan [Episode: The Runner] | 5:13 | | |
| 4 | Where's Johnny [Episode: The Runner] | 4:07 | | |
| 5 | Bronson Leaves [Episode: The Runner] | 1:27 | | |
| 6 | Bumpers [Episode: The Runner] | 0:17 | | |
| 7 | Alex's Bike [Episode: The Old Motorcycle Fiasco] | 2:31 | | |
| 8 | Nora Mad [Episode: The Old Motorcycle Fiasco] | 0:56 | | |
| 9 | Busy Boys [Episode: The Old Motorcycle Fiasco] | 2:39 | | |
| 10 | Alex Follows [Episode: The Old Motorcycle Fiasco] | 4:18 | | |
| 11 | Final Fall [Episode: The Old Motorcycle Fiasco] | 2:42 | | |
| 12 | Wayfarer Bonson [Episode: Amid Splinters of the Thunderbold] | 3:49 | | |
| 13 | Whiskey at Night [Episode: Amid Splinters of the Thunderbold] | 4:12 | | |
| 14 | Bucky's Guilt [Episode: Amid Splinters of the Thunderbold] | 2:48 | | |
| 15 | Mary Delivers [Episode: Amid Splinters of the Thunderbold] | 2:06 | | |
| 16 | Stiff Neck [Episode: All the World and God] | 2:35 | | |
| 17 | Mrs. Lacey [Episode: All the World and God] | 3:22 | | |
| 18 | Doc Is Dead [Episode: All the World and God] | 3:43 | | |
| 19 | Lambert [Episode: All the World and God] | 3:25 | | |
| 20 | Goodbye for Awhile [Episode: All the World and God] | 1:44 | | |
| 21 | Bronson Rock [Episode: Your Love Is Like a Demolition Derby] | 1:21 | | |
| 22 | To the Derby [Episode: Your Love Is Like a Demolition Derby] | 1:17 | | |
| 23 | Leona and Bronson [Episode: Your Love Is Like a Demolition Derby] | 2:17 | | |
| 24 | Prisoner Billy [Episode: Your Love Is Like a Demolition Derby] | 4:22 | | |
| 25 | Amish Farm [Episode: That Undiscovered Country] | 2:56 | | |
| 26 | Worried Parents [Episode: That Undiscovered Country] | 2:48 | | |
| 27 | Jan's Invitation [Episode: That Undiscovered Country] | 3:18 | | |
| 28 | Sad Jan [Episode: That Undiscovered Country] | 3:11 | | |
| 29 | End Title (Version 1) [Episode: That Undiscovered Country] | 0:51 | | |
Label: Intrada Special Collection Volume 244

www.intrada.com

Then Came Bronson
Disc 2/2

TK

Song Title

Time

Rating

1
Main Title (Alternate Ending)

George Duning

0:55
2
Neck Deep [Episode: A Famine Where Abundance Lies] John Parker
4:45
3
Highway Triangle [Episode: Old Tigers Never Die - They Just Run Away] John Parker
4:52
4
Wild Horses [Episode: Where Will the Trumpets Be?] Elliot Kaplan
4:47
5
Free Water [Episode: Two Percent of Nothing] Stu Phillips
6:12
6
Tate Don't Shuck [Episode: A Long Trip to Yesterday] John Parker
5:45
7
The Snake [Episode: Against a Blank Cold Wall] Dean Elliott
4:57
8
Moonlight Meeting [Episode: Sibyl] Richard Shores
8:42
9
Lady of Sweet Sorrows [Episode: The Gleam of the Eagle Mind] Stu Phillips
5:48
10
Eve and Len [Episode: Lucky Day] Stu Phillips
4:13
11
Bronson Under Siege [Episode: Mating Dance for Tender Grass] Stu Phillips
4:24
12
Manure-Sprader's-Gavotte Source [Episode: Mating Dance for Tender Grass] Stu Phillips
3:48
13
Breaking the Ice [Episode: The Mountain] Tom McIntosh
6:56
14
Nice Circle [Episode: The Ninety-Nine Mile Circle] Richard Shores
4:49
15
Montage [Episode: What's an Ark Without Centaurs? ] Philip Springer
5:28
16
End Title (Version 2)

George Duning

0:52
TV Pilot Episode

Then Came Bronson
(Movie Samples from the TV Pilot)

| | | | | |
| --- | --- | --- | --- | --- |
| TK | Song Title | Time | Rating | |
| 1 | Freedom on a Motorcycle | 2:15 | | |
| 2 | Beach Sorrow | 0:45 | | |
| 3 | The Chase | 0:54 | | |
| 4 | Lonely Nightime | 1:09 | | |
| 5 | Fresh Morning | 0.49 | | |
| 6 | Back on the Open Road Again | 0:17 | | |
| 7 | Left at the Depot | 0:35 | | |
| 8 | He Cares! | 1:41 | | |
| 9 | Leaving Home | 0:14 | | |
| 10 | He Made It! | 0:44 | | |
| 11 | A First Kiss | 1:18 | | |
| 12 | Busy Fixing the Bike | 1:24 | | |
| 13 | Romantic Pond Bath | 1:27 | | |
| 14 | Love and Figuring it Out | 1:12 | | |
| 15 | Long Lonesome Highway (Wayfaring Stranger) (Vocal by Parks and Bedelia; written by James Hendricks) | 0:22 | | |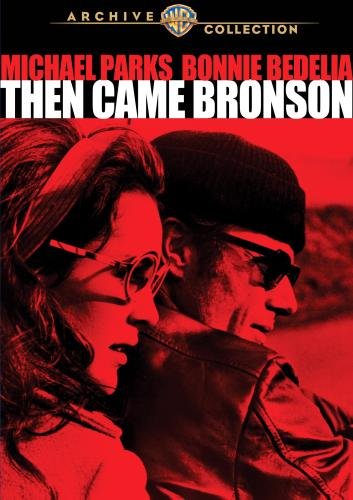 DVD Product Description: A Harley Roadster, a bedroll, a lonely stretch of highway: Jim Bronson (Michael Parks) is traveling where the road and the day take him, trying to make sense of things after the suicide of his close friend. He doesn't go far along a magnificent stretch of California's coastal Big Sur before he meets Temple Brooks (Bonnie Bedelia), a runway bride just as adrift as Jim is. Together, they'll ride that Harley all the way to New Orleans. Together, they might find what they're looking for. The pilot film for the same-titled 26-episode TV series, Then Came Bronson - seen here in an international version that has footage not seen in U.S. telecasts - came along in the free-wheeling era of Easy Rider. Hop on.

For ever, this movie (neither version) has never been available for purchase. Finally, after 30+ years, this Eurpean version was placed on the market. Naturally, being a George Duning fan (and a lover of this movie) I had to quickly snatch up a copy.... Only to be very dismayed. No, let me say it again... I was very, very disipointed with this "Eurpean" version. I must say, while I am a healthy, "normally" wired man that fully appreciates the basic design (and sculpure) of the female body... Let me say: ONE: The nudity was completely unnecessrry.. While I (as a normal male) fully appreciated viewing Ms. Bedelias's brests.. -- they were nice -- .. I failed to see the benefit of it.. Though the plot of the movie sure did!! Numerouse times, Mr. Bronson had reflections of seeing those breasts on the beach... Well, it seems that the editor believed that the Eurpeon audiance wanted a more senual expression of what Bronson was thinking... (yes, a little dirty); While the U.S. audiance wanted to appreciate the more gentlemanly and innocent nature of Bronson... Who really seeme to care about this girl and what happens to her rather than his own patetic interests. (let's admit.. it may not be natural for once person to care about another without
Then Came Bronson - TV Series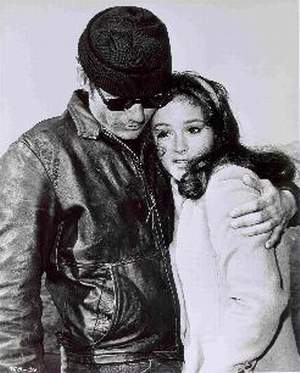 Series Overview:
The series featured James Dean lookalike Michael Parks as the protagonist Jim Bronson, a newspaperman who becomes disillusioned after the suicide of his best friend Nick (Martin Sheen) and, after a heated argument with his editor, "working for the man."
In order to renew his soul, Bronson becomes a nomadic vagabond searching for the meaning of life and experience what life has to offer (as revealed in the series pilot). During his travels, he shares his values with the people he meets along the way and lends a helping hand when he can. Bronson rides a Harley-Davidson Sportster motorcycle and, as such, was viewed by some as a modern version of the solitary cowboy wandering the American west.
Curiously, though the opening promised a journey of self-discovery, the premise of each episode was that Bronson enters someone else's life at a crucial point and acted as a catalyst for change. When Bronson encounters an Amish community, for example, a local boy becomes enraptured of the outside world and steals Bronson's bike to run off to Reno, Nevada. In another episode, located in Reno, Nevada, Bronson meets his cousin Eve on her wedding day and lends her money for the wedding service, but she runs off to the casinos and blows it.
Yet, Bronson is committed to pacifism and often redirects a competitor's anger into self-examination. Always, like a true catalyst, he rolls out of every episode unchanged.
The show sometimes faced the perception that it was a knock-off of the movie Easy Rider, but it actually preceded the release of that movie.
Scenes were mostly shot outdoors, which made for spectacular views, and Michael Parks employed the low-key "James Dean" method of acting. Some shows were funny, some sad, some serious.
Then Came Bronson TV series began as a 2-hour TV pilot movie of the same title, airing on NBC on March 24, 1969. In total, 26 episodes were made during 1969-1970.
The Motorcycle:
Bronson's bike, a 1968 XLH 900cc Harley-Davidson Sportster, figures in many episodes. In one episode he entered several bike races; in another, he made an emergency run to fetch a doctor. But in some stories the bike was merely transportation.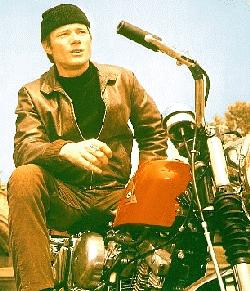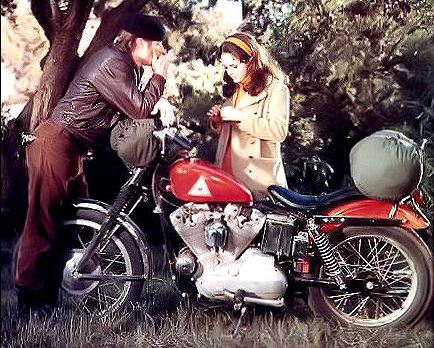 The show was controversial in that it featured a motorcycle "biker" when images of Hells Angels and Vietnam War protesters were on the minds of many Americans. Bronson proved to be a gentle soul who seldom got angry or raised his voice, and he helped people improve their lives with guiding words or a sympathetic shoulder to cry on. In that way, he manifested the hippie's ideal of leading and living a good life by example. Rather than seek to convert people to his values, he sought to lead them to their own true knowledge and to "do their own thing in their own space and time."
Then Came Bronson: Updated: 5/26/19
Pilot Episode Cast:
| | | | | | | | | |
| --- | --- | --- | --- | --- | --- | --- | --- | --- |
| Photo | Actor | Played Character | Born | Died | Age in Series | Age at Death | Years Since Birth | Cause of Death |
| | Michael Parks | James Bronson | 04/24/1940 | - | 29-30 | - | 79 | Alive |
| | Bonnie Bedelia | Temple Brooks | 03/25/1948 | | 20 | - | 71 | Alive |
| | Akim Tamiroff | Papa Bear | 10/29/1899 | 09/17/1972 | 69 | 73 | 120 | Cancer |
Music:
The opening instrumental theme song was titled, "Then Came Bronson" and was written and performed by George Duning. The closing vocal theme for the series was titled, "Long Lonesome Highway," sung by Parks and written by James Hendricks and was a Billboard Hot 100 hit reaching #20 1970. The pilot movie was released in Europe as a theatrical film that included a topless scene when Bonnie Bedelia strips off her wedding gown.
Pilot Filming Locations:
The opening scene for the Then Came Bronson series was filmed at the historic Fort Point, San Francisco California. Fort Point is located at the south anchorage of the Golden Gate Bridge at the end of Marine Drive on the Presidio of San Francisco. The fort is a National Historic Site in California and is part of the Golden Gate National Recreation Area. Fort Point was built between 1853 and 1861 by the U.S. Army Engineers as part of a defense system of forts planned for the protection of San Francisco Bay.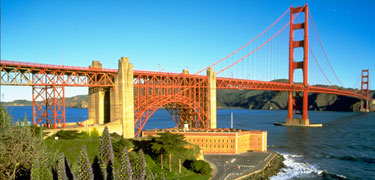 TV Episodes:
The following is a list of episodes from the Then Came Bronson television series aired on NBC. The two hour pilot aired in March 1969 and was followed by only one season of 26 episodes. The theme music for each episode was by George Duning.
Year

Episode Total

Episode

Date Aired

Episode Title

Synopsis

Composer

1970

26

1-26

04/01/70
What's An Ark Without Centaurs? (FINAL EPISODE)
In the series last and final episode Gus Samos (Morgan Woodward) hires Bronson to work on his yacht. Samos and his daughter Vhea are not communicating well because of their conflicting lifestyles and values. When Vhea leaves to see friends in a Buddhist community Bronson follows her. In the process both father and daughter question his motivations.

Philip Springer

25

1-25

03/25/70
The Mary R
Bronson helps his uncle Herman and his cousin Carl repair and restore a fishing boat. Carl is passionate about restoring the boat because it reminds him of his late mother yet Uncle Herman would prefer to sell the boat. When Beth (Beverly Garland), Herman's fiancée, demands that Herman choose between the boat or her, it forces Herman to make a decision.

George Duning

24

1-24

03/11/70
The 99 Mile Circle
Much like the vagabond Bronson, widower Isadore Katz left his business in New York City and took to the road in a camper to experience new realities and meet new people. Bronson helps Isadore when he runs out of gas but later it is Isadore who helps Bronson after his bike needs repairs. In the process they share the beauty of the terrain and a friendship develops.

Richard Shores

23

1-23

03/04/70
The Forest Primeval
In this environmental narrative, Bronson takes a ride in the Los Padres National Forest and runs into trouble after his motorcycle falls down an embankment. Bronson decides to ride out of the forest by following the contour of the terrain. In the process, the trip imbues Bronson with a deep respect for nature and the environment.

Gil Melle

22

1-22

02/25/70
Still Waters
Harve Traine (John Colicos), publisher of the "The Pacific Grove Press," warns his community in a series of editorials about the ecological havoc industrial pollution is causing the local bay and surrounding ocean. Parochial financial concerns who advertise with Harve's newspaper cause Harve emotional hardship and possible financial disaster. His daughter, Petey Traine (Veronica Cartwright) and Jim Bronson both believe in Harve's cause. Does Harve stick to his editorial guns and face monetary ruin or does he acquiesce to the wishes of his advertisers and in the process lose the respect of his daughter and Bronson?

Richard Shores and John Parker

21

1-21

02/18/70
The Mountain
The elder Wilson Ford (James Whitmore) is a renowned novelist with a secret that motivates him to act with abandon. In order to hone his writing skills and to prove his mettle, he constantly puts his courage to trial by performing daring, bold, and often foolish acts. Against his wife's wishes, Ford cajoles Bronson into a mountain hike that pits Ford against a youthful Bronson in a dangerous trek.

Tom McIntosh

1-20

02/11/70

Mating Dance For Tender Grass
Bronson and Native American Boise Idaho both vie for the attention of beautiful Tender Grass (Buffy Sainte-Marie) by entering a cross-country motorcycle race. At first, Bronson is against the idea, but after constant provoking by Boise Idaho and his nefarious accomplices, Spare Parts One and Spare Parts Two, he decides to prove his courage and impress Tender Grass in the process.

John Parker

1-19

02/04/70

Lucky Day
Bronson travels to see his cousin Eve Bronson in Reno, Nevada. Eve is engaged to Len and both decide to marry while Jim Bronson is in town. Jim gives his cousin money to buy a wedding dress but Eve impetuously chooses to gamble with the money at a nearby casino and catches "the fever." Eve's absence delays the wedding plans and Len confides to Bronson about his upcoming marriage and life.

Richard Shores

18

1-18

01/28/70
That Undiscovered Country
When Bronson arrives in an Amish community his tales of the "outside world" captivate a young man and woman, Harold Mueller and Dorothy Hofer, who are betrothed. Soon, Harold becomes jealous of Dorothy's attraction towards Bronson and heads out to see the world he has been missing. In the city, Harold meets the model Jan and, in the meantime, back in the Amish community, Dorothy ponders about love and the future.
1970

17

1-17

01/21/70
The Gleam Of The Eagle Mind
When eccentric painter Juan Longorio (Jay Novello) paints a mural of a naked woman on the side of a barn it places him and Bronson in trouble with the owner, Sid Casper, and the city locals. Still, more problematic than defacing private property, the painting causes emotional anguish to Sid, the deputy sheriff Hud McCarver, and Will Hudson, because they all think the painting is a picture perfect representation of their respective wives.

Stu Phillips

1969

1-16

01/14/70

A-Pickin' An' A-Singin'
Bronson becomes part of a singing duo with Billy Mulavey in order to compete in a song contest and land a job at a highway honky-tonk. Johnny Dell (Skip Homeier), a greedy local disk jockey, signs songwriter Billy to a restrictive contract, but Billy has running on his mind. Betty, the waitress who loves Billy, and Bronson wonder about Billy's veracity when Mickey Rand claims ownership of the songs written by Billy.

George Duning

and Stu Phillips

15

1-15

12/31/69
Sibyl
Bronson is charmed by Sybil who fancies herself a witch and is part of a band of occultists lead by cult-leader Hermes. Bronson at first is entertained by her beliefs but later recoils at her lifestyle. Ultimately, Sybil has to determine the greater meaning of the supernatural, and in the process, life.

Richard Shores

14

1-14

12/24/69
Against A Blank Cold Wall
Native American Tony Wade (Robert Loggia) has taken his family into bleak country to perform his Vision Quest in order to reclaim his spirit. Bronson, an old friend of Tony, locates him and his family and finds them in dire straits. Even though Tony, his wife Linda and son, are underfed and malnourished, Tony still demands that Bronson leave. Linda urges Bronson to stay and reveals a secret she has not told Tony.

Dean Elliott

13

1-13

12/17/69
The Spitball Kid
The arrogant William Lovering (Kurt Russell) is regarded as a great pitcher in a local bush league baseball team. When Bronson rides into town and takes a job as a ball player he soon finds he's able to hit the ball off Lovering at will. Bronson tries to prepare Lovering for a try out with major league scout Art Gilroy (Don Drysdale).

Gil Melle and

George Duning

12

1-12

12/10/69
A Long Trip to Yesterday
Bronson helps a reluctant biker in distress, Henry Tate, with a loan when his bike breaks down on the road. In order to repay him Tate takes Bronson to his family's home where he has not visited since he left many years ago. Tate's homecoming causes tribulation for all.

11

1-11

12/03/69
All The World And God
Bronson befriends a nurse, Barbara Timmons (Lois Nettleton), who mourns the death of a doctor she worked for. Timmons considers quitting her job because of her grief but is uncertain because she worries about her patients care. Bronson admires Timmons' work as a nurturing caregiver, yet finds helping her a challenge.

10

1-10

11/26/69
Two Percent of Nothing
Bronson accepts a percentage of an oil well that is possibly ready to blow, in lieu of cash for work done for Royce MacLeod (Steve Ihnat). MacLeod faces foreclosure on the land if he can't beat the target date specified on a promissory note owned by Mac Keller.

Stu Phillips

09

1-09

11/19/69
Your Love is Like a Demolition Derby in My Heart
Bronson arrives in a small town and asks Leona out on a date. She has a brother, Darryl, whose excessive protection of her causes her dismay. Bronson helps Leona enter a demolition derby that puts Bronson in a predicament with her brother.

08

1-08

11/05/69
Old Tigers Never Die--They Just Run Away
Bronson stays at the home of Oliver (Will Geer) a retired pressman who loves to talk. Russ Faber learns that Bronson plans to enter a local motorcycle race and becomes obsessed with defeating Bronson in the race.

John Parker

07

1-07

10/29/69
The 3:13 Arrives at Noon
Clay Turner is a bank robber and former local hero who has been imprisoned for years. After being paroled he returns to his hometown and it causes three people anxiety. The reasons: Turner had made revenge threats to Ed Hemmings for turning him in many years ago and Earl Braeden is now married to Turner's former girlfriend Charlene Braeden. Charlene (Gloria Grahame) preens herself for Turner's return as if she were his current paramour. Amongst all this anxiety, Bronson finds Turner's return affects him as well in this modern age Western confrontation.

George Duning

and John Parker

1-06

10/22/69
Amid Splinters of the Thunderbolt
Bronson travels to Colorado to find an old friend named Bucky O'Neill (Bruce Dern): a priest with a crisis of conscience. Bucky has fallen in love with Mary Draper and yet leaving the priesthood torments him. Mary is tortured as well and blames herself for Bucky's problem. She believes she's destined to die giving childbirth. When she refuses medical help Bronson is forced to make a decision.

1-05

10/15/69
Where Will the Trumpets Be?
Bullfighter Miguel (Fernando Lamas) approaches motorcycle riding using the same aggressive methods that he uses to fight bulls. Bronson is reluctant when Miguel tries to imbue Bronson with his same values and suggests that he use similar methods. In the meantime Bella and Morgana (Jessica Walter), two beautiful sisters, compete for the attention of both men.

Elliott Kaplan

1-04

10/08/69

The Circle of Time
Bronson ends up in a ghost town whose sole resident is Hattie Calder (Elsa Lanchester). She piques Bronson's interest with her her vitality and tales of surviving the Titanic disaster. Hattie has an ongoing quarrel with Abner Hotchman who is secretly looking for a silver vein in the area. Her one remaining wish in life: to be buried next to her husband in a nearby plot.

Gil Melle

1-03

10/01/69

A Famine Where Abundance Lies

Bronson is hired by lonely widower Monica to work on her ranch. Her teenage daughter Lori soon becomes smitten with Bronson and Monica finds Bronson's demeanor captivating as well. Bronson's dilemma: how to deal with the attention of both women without causing them emotional injury.

John Parker

1-02

09/24/69

The Old Motorcycle Fiasco

When Bronson's motorcycle is inadvertently damaged by a careless gasoline attendant, a grizzled old-timer named Alex (Keenan Wynn) lets Bronson use his ranch to make repairs. Alex shows Bronson his old bike, a 1937 Rudge Ulster, that had been in storage for years. Soon, both are riding again and, since Alex had promised his wife Nora to abandon motorcycles, it leads to complications in his marriage.

George Duning

1-01

09/17/69

The Runner

In the season opener, Jim Bronson takes a temp job at Hanrahan School, a summer camp for disturbed children run by noted therapist Edward Hanrahan (Jack Klugman) and his daughter Doris who is an old girlfriend of Bronson. He becomes interested in an autistic student John (Mark Lester) known as "the runner" because to his penchant to flee. Edward Hanrahan gives Bronson wide latitude in dealing with John.

George Duning

1969

-

-

03/24/69
Then Came Bronson (TV Series PILOT EPISODE) (2 Hour Movie re-aired on 8/69)
Jim Bronson, a native of East Oakland, California, works as a beat reporter for a San Francisco newspaper. When a young friend, Nick Oresko, commits suicide by jumping off the Golden Gate Bridge, Bronson consoles the widow and then heads back to the newsroom. Here he crafts an obituary for his friend, only to be told by his editor that the piece is unimportant. The disillusioned reporter quits his job, climbs aboard a Harley and hits that "long lonesome highway."

George Duning
More Tidbits:
| | |
| --- | --- |
| The Harley | The main prop used in the movie (and subsequent TV series) was a red 1968 XLH 900cc Harley-Davidson Sportster. Producer Bob Justman created the "Eye of God" symbol on the bike's gas tank. |
| Bonnie Bedelia | Birth name: Bonnie Bedelia Culkin, born in New York City, NY. |
| Bonnie Topless!! | Two versions were filmed for the Bonnie Bedelia beach scene: One version featured Bonnie stripping off a wedding dress down to her bra & panties, and the other version reveals her stripping the wedding dress down to her panties -and going topless (the topless version was broadcast in Europe and is now available on DVD). |
| Motorcycle Stunts | Bud Ekins (1930-2007), a friend of Steve McQueen's, performed the motorcycle stunt work. |
| Filming Locations | The TV pilot for Then Came Bronson was filmed on location in California (Carmel, San Francisco, Stockton, Big Sur, Sacramento, the Pacific Coast Highway). |
| Filming Locations | To find out more about this TV series, you can visit http://www.thencamebronson.com, http://www.thencamebronson.tv and http://epguides.com/ThenCameBronson/guide.shtml and http://www.jimbronson.com. |
[Source: Wikipedia, the free encyclopedia: http://en.wikipedia.org/wiki/List_of_Then_Came_Bronson_episodes]
[Source: Wikipedia, the free encyclopedia: http://en.wikipedia.org/wiki/Then_Came_Bronson]